Filtration Plant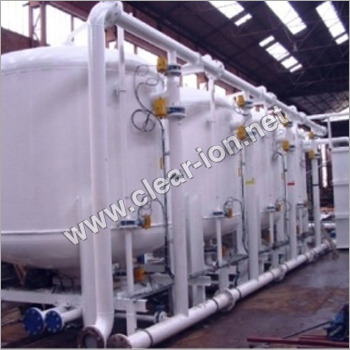 Filtration Plant
Price And Quantity
Piece/Pieces

50000.00 - 100000.00 INR
Product Description
Filtration Plant

Owing to our unmatched commitment and customer-centric approach, we have emerged as one of the leading manufacturers and exporters of sophisticated range of Filtration Plant. We use the best techniques and modern technology to come up with the best range at the most competitive prices. The filtration process includes flow of the water through minute particle bed like granules, sand at an extremely low speed. Widely applied in water treatment plants and municipal sector, our range of filtration Plant is in great demand the in the national and international markets.
Features:
Corrosion and rust proof body
Long functional life
Optimum precision in filtration
More Details:
Filtration process necessitates the flow of water through a granular bed such as sand or another ideal media, at a low speed. The solid matter present in the water is retained by media and allowing the cleaned water to pass. The method in which granular bed is used is known slow sand filtration. The method is in use for centuries and derived from the conventional methods of cleaning water and removing the impurities. The technique is still extensively used in municipal water treatment plants & other industrial applications.
As the filtration process is the most significant part of pretreatment, we provide range of filters that ascertains maximum design stability and efficient removal of entire suspended solids, odor, turbidity, iron and color present in the water.
Pressure Sand Filter - It is generally applied for termination of suspended solids & undissolved impurities such as heavy metals and dust particles and through this action the turbidity of water is reduced. Sand filtration is used for filtration of surface water, treatment of wastewater, and cooling of water.
Iron Removal Filter Water through common supplies contain particles of iron & manganese that may cause harm in domestic and industrial use if left in the water. Removal of iron & manganese is imperative and urgent requirement before the pretreatment step in ion exchange & R.O. treatment.
Multi Grade Filter It functions on the principle of retention and removal of solid impurity in a phased manner through caveats of the filtering media.
Dual Media Filter Such type of filter comprises two filtration media known as anthracite and sand. Sand is applied for eliminating dissolved particles and anthracite removes odour and colour impurities found in water. We can provide the filters in required configuration in accordance with the demands of our clients and filtration upto 10-20 microns can be achieved.
Ultra Filtration (UF) Ultra Filtration is a type of membrane filtration wherein hydrostatic pressure forces a liquid against a semipermeable membrane. Dissolved solids and solutes of high molecular weight are retained whereas low molecular weight solutes and water pass through the membrane. This separation process is used in industry and research works for concentrating and purifying macromolecular (103 - 106 Da) solutions, particularly protein solutions. Basic, ultra-filtration is not dissimilar from microfiltration, nanofiltration or gas separation apart from only in terms of the size of the molecules it preserves. Ultra-filtration is used in dead-end or cross-flow mode and separation in ultra-filtration is subject to concentration polarization.
Activated Carbon Filter Highly useful in water treatment as an adsorbent, Activated Carbon Filtration can efficiently eliminate particles and organics from water. Carbon filters are optimally effective in the removal of sediment, chlorine, and volatile organic compounds (VOCs) present in the water.
These organics are of high utility in water treatment due to their ability to react with several disinfectants, particularly chlorine, and cause the development of disinfection-by-products.
Contact Us
Plot No. 28, Sector- 24, Faridabad, Haryana, 121005, India
Phone :+918037549370